MOT Tests are required on all vehicles over 3 years old, every 12 months.
During the MOT, important parts on your vehicle will be checked to make sure they meet the legal standards.  Our team will then provide the feedback after the MOT is complete as to whether there is any advisory work required or if the vehicle has failed, what needs to be completed to ensure that it passes at re-test.
You can, of course, watch the test from our viewing area but you are not allowed to interrupt the tester.
What parts of your car are tested / inspected during an MOT?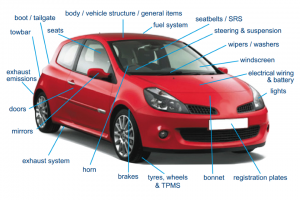 For a full list of what is tested during an MOT, please click here to visit the government MOT Inspection Manual.
I would like to praise you on the service that you gave my daughter when she bought her car in for an MOT recently. As a female, she felt that other garages took advantage of her and had previously over charged. I would like to thank Thomas specifically for talking her through the MOT process and the costs involved. My wife and I will definitely be recommending you to all our friends and family.

Testimonial from a customer in Nailsea – Dec 2015 
Book your MOT today for £39.99 by calling us on 01275 852 035